Brightpick to be featured at Sedlak virtual event (September 2023)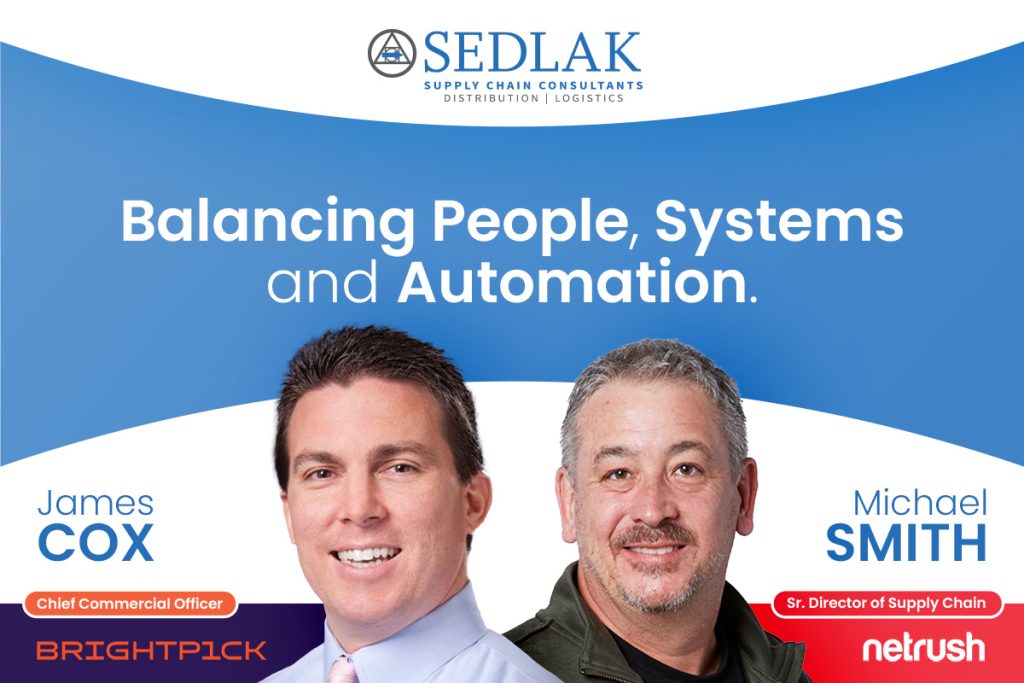 Brightpick will be presenting at a virtual event hosted by Sedlak, a leading supply chain consultant and advisor for distribution and logistics. The topic of the event is "Balancing People, Systems and Automation."
James Cox, Chief Commercial Officer at Brightpick, will present an overview of the recently announced Brightpick Autopicker, the world's first commercially-available autonomous mobile picking robot.
He will be joined by Michael Smith, Sr. Director of Supply Chain at Netrush, a 3PL based in North America, to talk about their experience implementing a solution from Brightpick. The discussion will also provide insight into Brightpick's design considerations and system capabilities to understand the best possible fit for Brightpick Autopicker.
Event details
Time: September 13, 2023 at 11:00 AM EST.
Location: Virtual
Speakers: James Cox (CCO at Brightpick) and Michael Smith (Sr. Director of Supply Chain at Netrush)
Sign-up here for free
About James Cox
James Cox is responsible for Brightpick's growth strategy in North America, where he focuses on customer success pre- and post-contract for a multitude of customers within the ecommerce, grocery and 3PL markets. He has 20 years of customer engagement experience in the materials handling and supply chain industries. Before joining Brightpick, he was VP of Sales at Dematic, where he led Dematic's sales efforts in the Northeast Region, delivering the region's all-time highest sales in 2021. Prior to that, James was General Manager at Equipment Depot. He earned a BA in Finance from Bowling Green State University and a MBA from Xavier University.
About Brightpick
Brightpick offers AI-powered robots for warehouses to easily automate every stage of ecommerce and e-grocery order fulfillment. The innovative robots enable warehouses of any size to fully automate order picking, consolidation, dispatch and stock replenishment. The Brightpick solution takes weeks to deploy and enables companies to reduce their picking labor by 95% and cut picking costs by half. Headquartered near Cincinnati, OH, Brightpick is part of Photoneo Brightpick Group, which has more than 300 employees and 5000 technology installations across the US, Europe and Asia. For more information, contact us here.