Order consolidation
Brightpick Dispatcher
Dispatch orders faster, eliminate human error and reduce fulfillment costs
Easy-to-install mobile robot solution that fully automates order buffer, consolidation and dispatch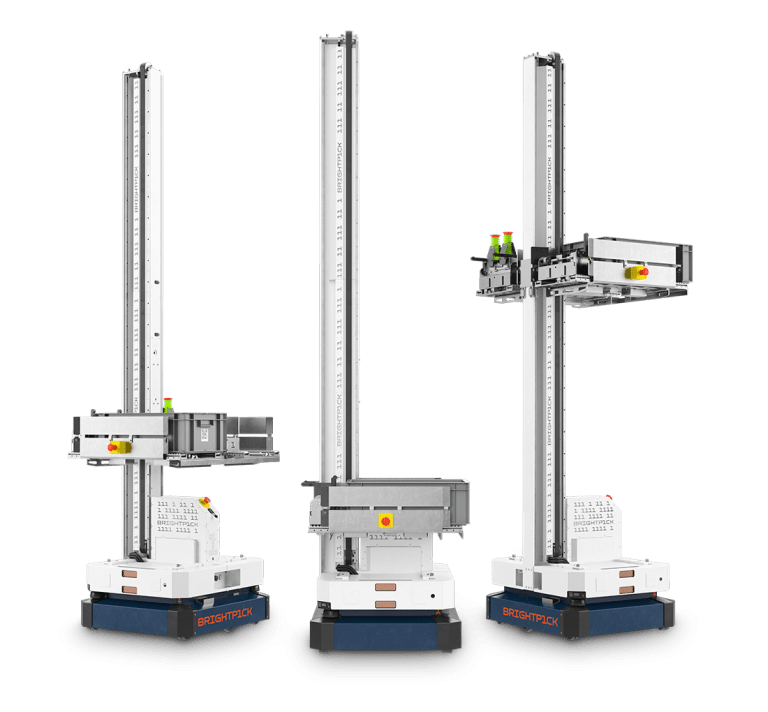 Brightpick Dispatcher
Flexible automation for post-pick order consolidation
Brightpick Dispatcher robots enable companies to fully automate post-pick order consolidation, buffer and dispatch.
They are ideal for distribution centers that need to consolidate large orders consisting of multiple totes or small cases, and buffer those orders before dispatch.
Companies can also use Brightpick Dispatchers to consolidate orders picked across multiple different picking zones within their warehouse, for example ambient and chilled.
Features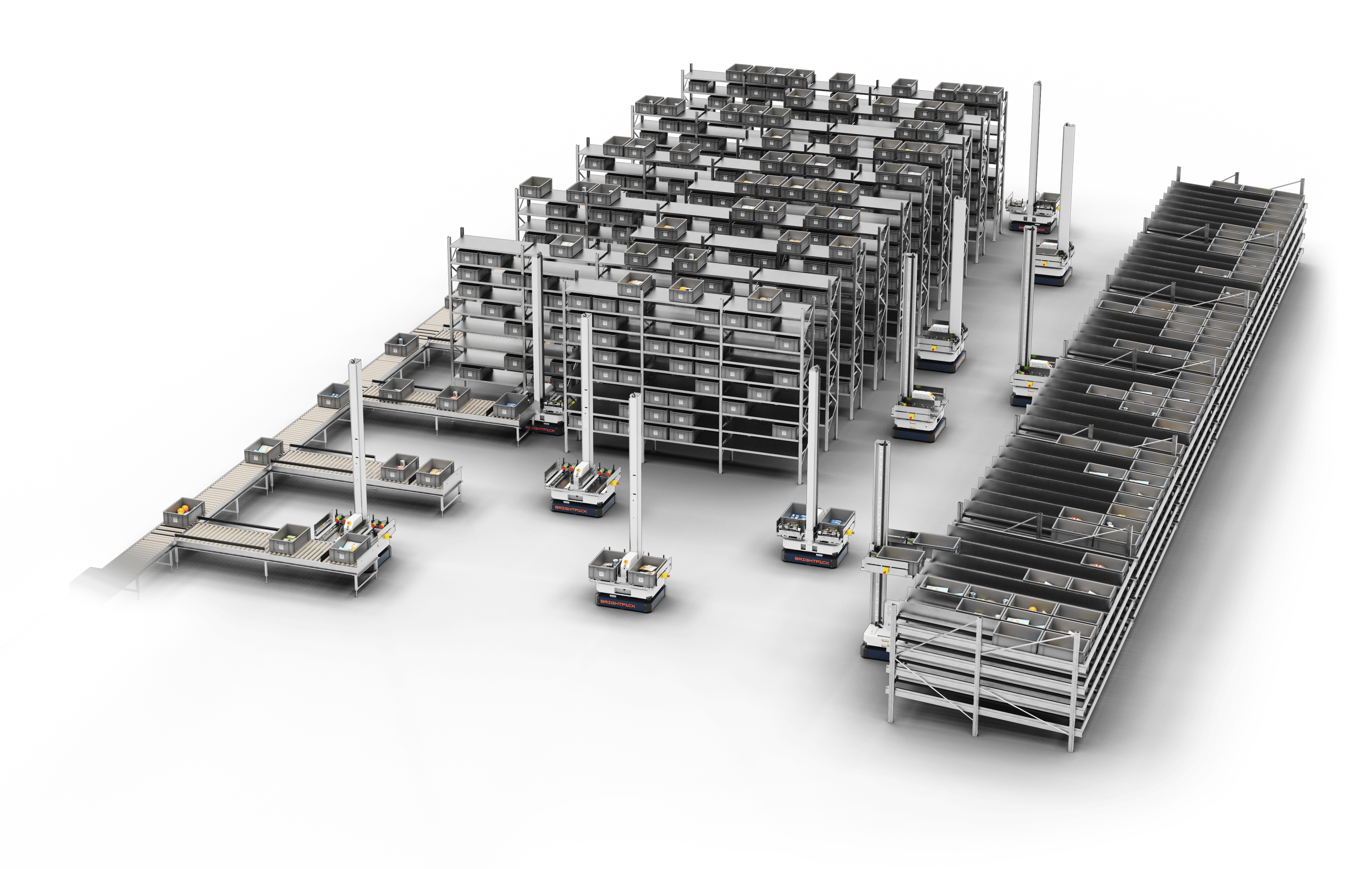 Order consolidation
Simplify your post-pick consolidation
Brightpick Dispatchers consolidate orders consisting of multiple totes or cases and stage them according to the exact delivery route each van needs.
The robots help ensure each order ships on time and can easily adapt to changing shipping schedules, route profiles and order prioritization. By eliminating human error from dispatch, Brightpick Dispatchers help companies improve customer satisfaction and reduce return rates.
---
Order buffer
Fulfill more orders during peak hours
In addition to autonomously consolidating and dispatching orders, Brightpick Dispatchers can store picked orders in a temporary buffer area until they need to be shipped.
By getting orders ready in advance, warehouses can unlock additional picking capacity and dispatch more orders during peak hours.
---
Installation
Easy to install and integrate
Brightpick Dispatchers can be installed in just a few weeks and can easily integrate with existing picking processes and conveyors. This enables companies to increase fulfillment rates in existing facilities without growing their footprint.
There are no special flooring, fencing, navigation or fire safety requirements. Companies can choose to deploy Brightpick Dispatchers alone or together with other Brightpick robots.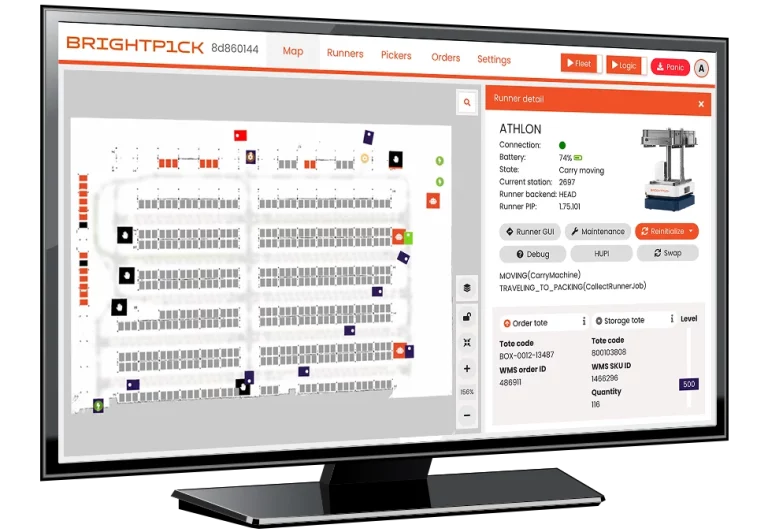 SOFTWARE
The brain that powers everything
Brightpick Dispatcher is a proven solution that was designed from the ground-up for order consolidation and dispatch.
Brightpick Intuition software orchestrates and optimizes the entire robot fleet and dispatch process. It masterminds the entire fulfillment workflow and robot path planning to ensure maximum efficiency and throughput for the warehouse.
---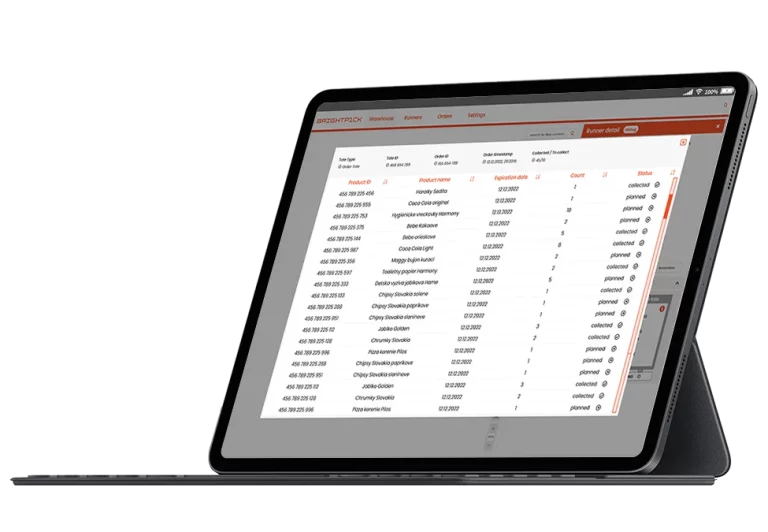 ANALYTICS
Your very own digital warehouse
Brightpick Intuition integrates seamlessly with your WMS or ERP system using standard APIs. The software acts like a digital twin of your warehouse and enables you to view and monitor all the robots and workflows in real time using an intuitive dashboard.
---