How we simulate our robotic solution before installation
The best way to ensure any robotic solution performs as expected is to simulate it before installation. A simulation of the final design will demonstrate the solution's true capabilities in a range of operating scenarios. Simulating the solution with your own historical data offers a reliable and transparent view of how the system will behave in your specific warehouse.
If you are like most logistics professionals working in fulfillment warehouses, robotics is both exciting and daunting. Robots offer many benefits, from reducing labor costs to improving customer satisfaction by increasing picking speed. Implemented correctly, robots can solve your operational challenges and quickly propel you ahead of your competition. At the same time, deploying robots in your warehouse requires a substantial monetary investment, often millions of dollars. The last thing you want is to install a solution that doesn't achieve your goals.
That is why at Brightpick, we offer each company a detailed simulation of how our solution will perform in your warehouse before installation.
We design each installation to your unique needs based on your real-life historical data. After the solution is designed, we create a digital twin of your warehouse and run extensive tests on our simulation software to observe how the solution would perform in real life. Our simulation software is built on Brightpick Intuition, the software orchestrating the Brightpick robotic fleet, thus ensuring maximum accuracy and reliability.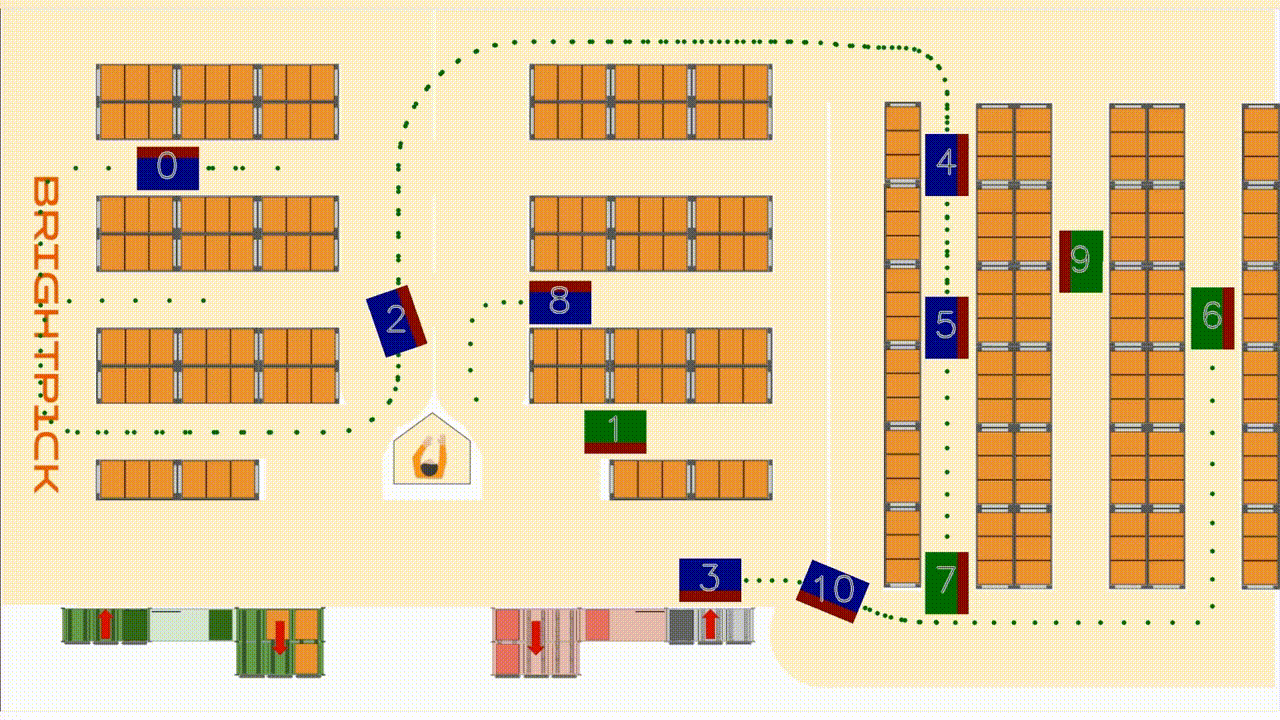 The output from the simulation is a detailed report with a set of performance metrics during both peak and average periods. In addition, you get a visual animation (pictured above) to see how each Brightpick robot will behave in your warehouse. The simulation enables you to accurately anticipate your throughput and labor needs post-installation and to gain comfort that Brightpick is the right solution for your operations.
Benefits of a simulation:
Offers a transparent view of how the Brightpick solution will perform in real-life
Delivers accurate, reliable and comprehensive performance metrics
Minimizes risk of underperformance post-installation
For our engineers to start building a simulation, all we need is some basic data on your operations:
Total orders per day
Orders per hour during peak times
Items per order
Average order lines (SKUs) per order
# of SKUs
# of totes required for storage
Number of operating hours / shifts per day
Drawing of the warehouse and automation area
After that, our team constantly refines the simulation further based on additional data sharing, analysis and final solution design.
In summary
We understand that purchasing robotics and automation for your warehouse can be a huge decision to make. That is why we want to provide you with as much comfort and information as possible before you make your purchasing decision. A simulation is the most accurate way to test performance of a robotic solution before implementation. When working with Brightpick, our simulation software gives you a great view into all the performance enhancements our solution provides before you make a significant financial investment.

About Brightpick
Brightpick offers AI-powered robots for warehouses to easily automate every stage of ecommerce and e-grocery order fulfillment. The innovative robots enable warehouses of any size to fully automate order picking, consolidation and dispatch, as well as stock replenishment. The Brightpick solution takes weeks to deploy and enables companies to reduce their picking labor by 95% and cut picking costs by half. Headquartered near Cincinnati, OH, Brightpick is part of Photoneo Brightpick Group, which has more than 300 employees and 5000 technology installations across the US, Europe and Asia. For more information, contact us here.