Which is better for your operations: Brightpick Autopicker vs directed picking AMRs
With so many robotic solutions available for automated order picking, it's easy to get overwhelmed and caught in a state of decision paralysis.
To maximize the benefits of automation, you must assess how a solution aligns with both your processes and your goals for implementation, scalability, and ROI.
In this blog, we'll compare two common options – Brightpick Autopicker and directed picking AMRs – to help you make an informed decision.
Brightpick Autopicker is an AI-powered mobile robot that robotically picks and consolidates orders directly in the warehouse aisles. In addition to in-aisle robotic picking, Brightpick Autopicker can also be used for other important tasks such as Goods-to-Person picking, stock replenishment, pallet picking and dynamic slotting.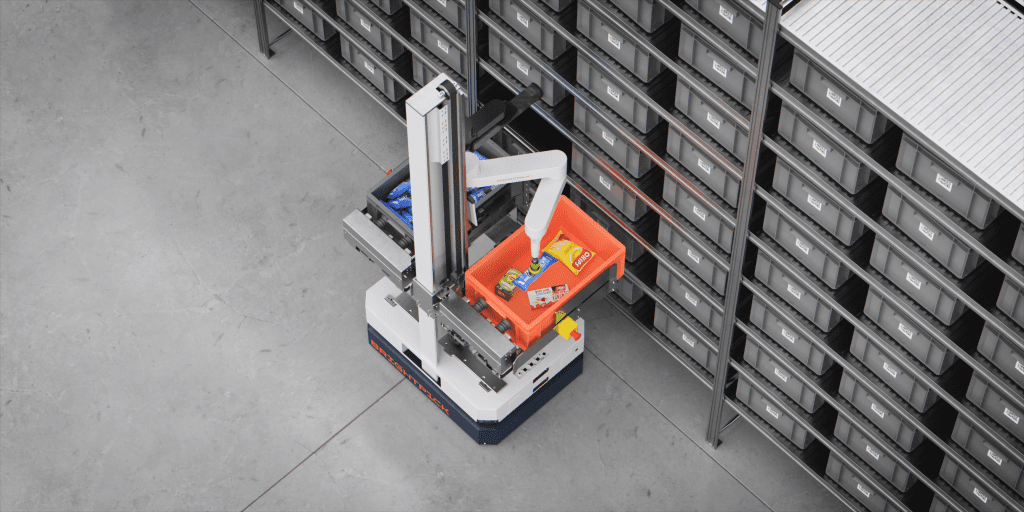 Directed picking autonomous mobile robots (AMRs) carry items on behalf of human operators, who walk around the warehouse to pick and replenish items with the assistance of the robots (typically in dedicated "picking zones"). Examples include LocusBots or 6 River Systems' Chuck.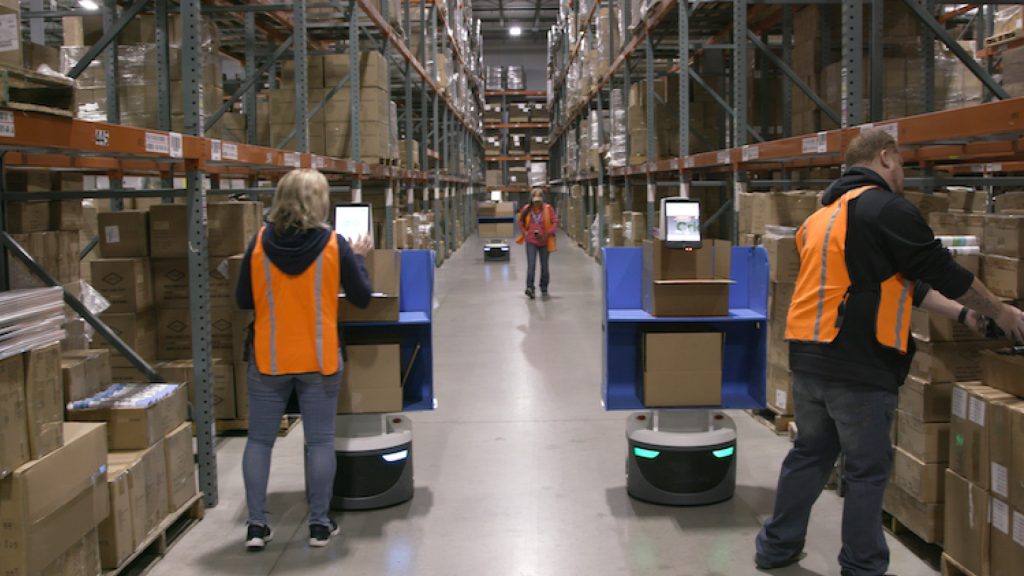 Similarities
Flexibility
Customers love the flexibility that both Brightpick Autopicker and directed picking AMRs offer. The ability to easily reconfigure or scale a robotic solution is especially important for fast-growing companies, 3PLs with a dynamic customer base and retailers looking to maximize productivity in their existing facilities.
Because directed picking AMRs rely on humans to pick from pallets or storage shelves, they can typically be installed without any major changes to the warehouse or operating processes.
Similarly, all parts of the Brightpick solution can be easily scaled or reconfigured as business needs change. Brightpick Autopickers work with standard shelving and totes, (which can even be bought at your local hardware store!) and don't require any fixed infrastructure. This makes them well suited for existing brownfield sites or pick modules where other forms of automation are not feasible.
Installation and Scalability
Both Brightpick Autopickers and directed picking AMRs are easy and cost-effective to install and scale. Because they do not require fixed infrastructure, they can typically be installed and turned on in just a few weeks. This also makes them a great option for existing brownfield sites or pick modules, where other types of automation are not possible without a major overhaul of the warehouse.
Both types of robots rely purely on visual-based navigation and do not require fixed guidance systems such as QR codes. They are also collaborative and safe around humans, which means they do not require safety fencing.
This makes it easy for companies to quickly add additional robots, for example to boost volumes for peak season. Expanding the storage footprint is also simple – just map out a new area of the warehouse for the robots to work in. 3PLs such as Netrush are using this to their advantage – by starting small and scaling gradually as they add more customers into the automated system, Netrush has reduced their upfront costs and thereby minimized business risks.
Pricing models
Both Brightpick and directed picking AMRs are available with robots-as-a-service (RaaS) pricing, in addition to capex. This enables companies to spread the cost of the automation over several years and achieve immediate ROI and cost savings.
Differences
Labor savings
Brightpick Autopicker achieves 2x more labor savings than directed picking AMRs.
Directed picking still requires humans to pick and place items inside the aisles (on average there is one human for every three robots). By contrast, Brightpick Autopicker robotically picks items from storage totes directly inside the warehouse aisles, using proprietary 3D vision and AI. For more complex picks, Brightpick Autopicker delivers the storage tote to a Goods-to-Person station. Just like directed picking, Brightpick Autopicker can be used for discrete or batch picking.
In addition, Brightpick Autopickers fully automate putaway and replenishment. The robots automatically take empty totes out of storage and bring them to decanting stations, where they pick up replenished totes and slot them into storage.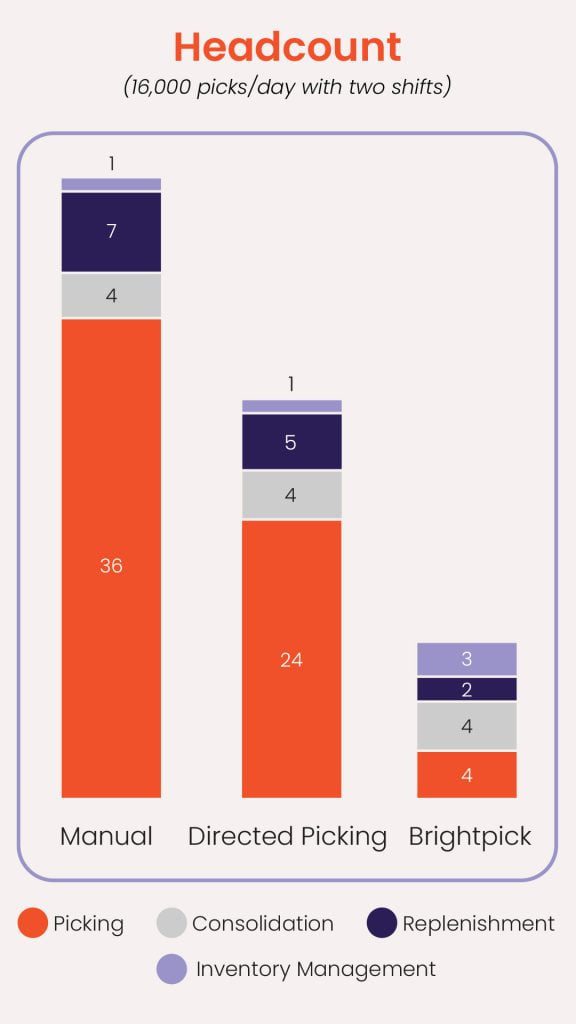 Performance
Brightpick Autopickers achieve superior performance because they automate and optimize more processes than directed picking AMRs.
For example, robotic picking eliminates human picking errors, which improves customer satisfaction and reduces returns. Meanwhile, picking rates in Brightpick's Goods-to-Person stations (for items that cannot be robotically picked) exceed 450 picks per hour – triple that of directed picking solutions.
Brightpick Autopicker also enables warehouses to easily operate 24/7 – it's much easier to increase working hours when you do not need to hire lots more labor for additional shifts. At night, Brightpick Autopickers also perform dynamic slotting, whereby the robots optimize storage tote positions to maximize throughput and speed (for example by analyzing the next day's order backlog and bringing the necessary totes closer to minimize travel distances for picking).
Storage density
Brightpick Autopicker offers double the storage density than directed picking AMRs.
Because directed picking still requires humans to pick from shelving or pallets directly, warehouses cannot install higher shelving or narrower aisles. By contrast, Brightpick Autopickers can reach heights of up to 10 feet (3 meters) high and require aisles just 3 feet (90cm) wide. As a result, companies can store more inventory and ship more volumes without growing their warehouse footprint.
ROI and cost savings
Brightpick Autopicker delivers more labor savings and higher ROI.
Even though directed picking AMRs typically cost less than Brightpick Autopickers, the superior labor savings and efficiency that Brightpick delivers means the total operating costs end up being lower. As such, companies installing Brightpick Autopicker achieve higher ROI and cost savings, which improves competitiveness and profitability.
For example, a warehouse doing 16,000 picks/day would spend $7 million less in operating costs over 10 years with Brightpick Autopicker than with directed picking AMRs (assuming RaaS pricing for both).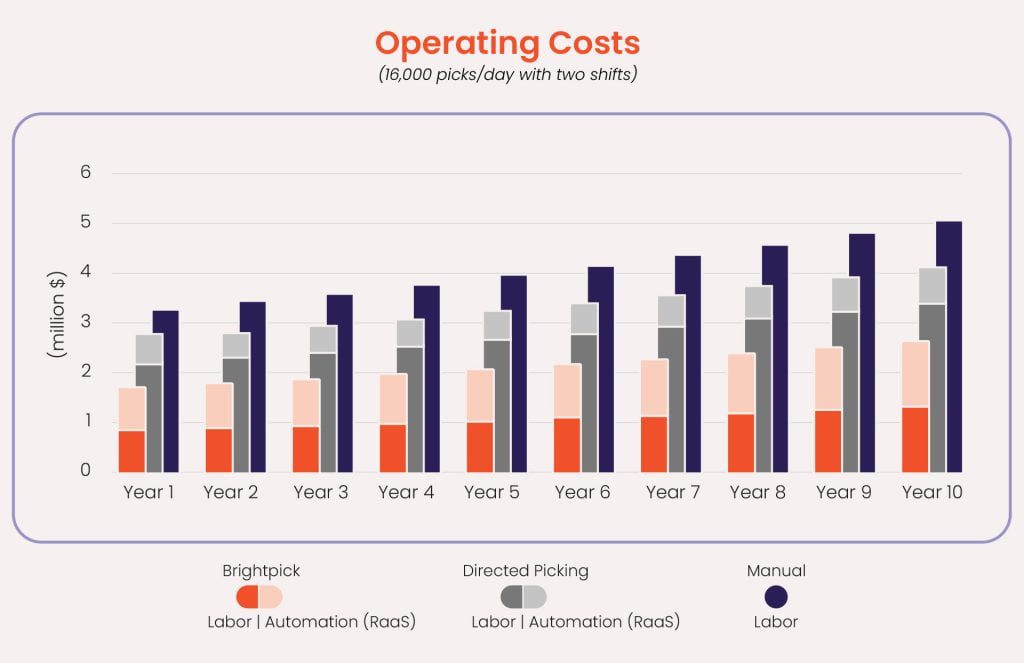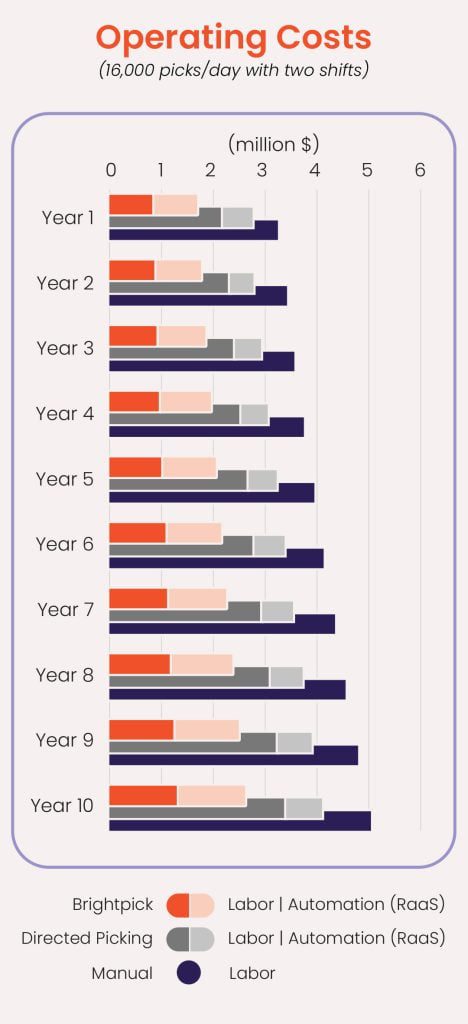 Conclusion
Brightpick Autopicker combines the flexibility of directed picking AMRs with in-aisle robotic picking and automated storage and replenishment. That means companies can achieve more labor savings, better performance and lower operating costs while retaining all the benefits of directed picking.
"Brightpick was super easy to install. [The solution] was up in a matter of weeks. We thought a lot about scalability as we wanted to be able to grow. Adding on to this is almost like a Lego set, you just keep adding and adding."

Brian Birch, Chief Supply Chain Officer at Netrush
Ready to embrace the future of fulfillment? Learn more about Brightpick and how it can optimize your operations.
Get started with Brightpick
Footnote
All data is based on underlying assumptions. Actual results may vary based on individual warehouse dynamics.
Underlying assumptions used for the labor and cost comparisons: 16,000 picks per day over 2 shifts, 7 days per week. Pick rates of 80 PPH for manual, 140 PPH for directed picking and 400 PPH for G2P; assumes Brightpick can robotically pick 50% of SKUs (by volume). $25 hourly wage (fully-loaded) per Associate and $35 per Supervisor (1 Supervisor per 10 Associates). 5% annual cost inflation (for wages, automation RaaS fees, facility, other operating costs). 50% annual staff turnover with hiring costs of $4,000 per FTE. No cost savings assumed from an improvement in storage density.