A Conversation with Jan Zizka, Brightpick CEO and Co-Founder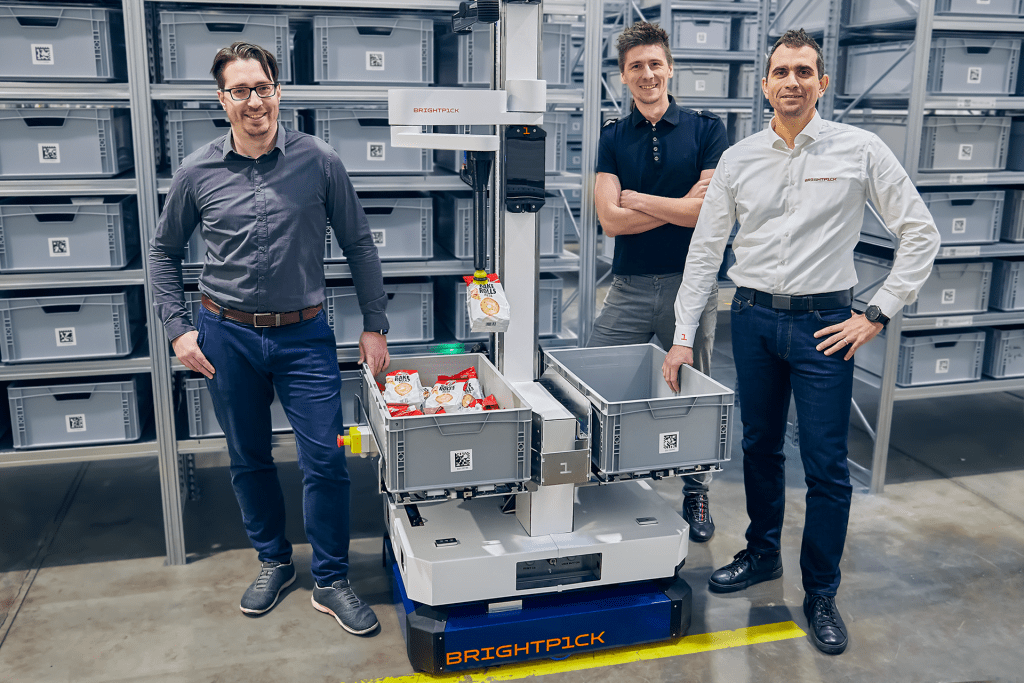 Can you tell us about the founding story of Brightpick? What inspired you and your co-founders to start this company?
I've been interested in machine vision and robotics since high school. While working at MIT as part of my PhD program, I realized the existing machine vision technologies were simply not good enough. The vast majority were 2D, instead of 3D, and lacked the accuracy and robustness that was necessary for robotics to gain mass adoption.
My desire to improve machine vision technologies led me to start Photoneo in 2013 with my co-founders Tomas Kovacovsky (CTO), Dr. Michal Maly (Director of AI), and Branislav Pulis (Chief Revenue Officer). They are all smart and talented people. Three of us grew up together, and Michal and I even competed against each other in regional math and physics competitions when we were in high school (he always finished first, I came second). Today, the company we started has become one of the leading machine vision providers in the world with 7000 technology installations worldwide.
While scaling Photoneo, we realized our customers were facing many challenges beyond visual precision in their robotics. In logistics and warehousing in particular, labor shortages have been holding back the industry for an entire decade. Our customers also were navigating through escalating costs, issues with human errors and high seasonality (such as the December holidays). So we founded Brightpick to build them something really great, an end-to-end solution that would address all these things and more.
I often simplify Brightpick's journey by saying we started with the eyes (machine vision), then added the brains (AI), the legs (mobility), and arms (robotic arm) to eventually create Brightpick Autopicker, our flagship robot.
You could say we've been building Brightpick for the past 10 years when we created our first 3D vision camera at Photoneo. However, the Brightpick brand itself was established only two years ago and operates as a separate business unit within the company.
What sets Brightpick apart from other companies in the same industry?
Our Brightpick Autopicker robot is the only mobile robot in the world that robotically picks and consolidates orders directly in the warehouse aisles. It basically works like a human with a cart moving around the warehouse building an order. What's great is that the robots don't need to travel back and forth to centralized picking stations for each pick, like most other fulfillment robots out there do. This means our robots can pick and consolidate orders faster. Our customers love this because they can ship orders faster and automate their warehouses with fewer robots, which reduces costs.
There's nothing else like it on the market, so Brightpick Autopicker has had a great reception since we unveiled it in February 2023. We patented the design, and it is complex technology combining mobile robots with AI-powered robotic picking, so we expect to be the only company to offer this kind of robot for the foreseeable future.
In addition to the above differentiators, the entire Brightpick solution is developed and manufactured in-house. We don't cobble together disparate solutions like some others do. Because we do it all in-house, everything works really well together. It also enables us to keep our costs low and to pass these savings onto our customers.
How has Brightpick evolved since its inception, and what challenges did you encounter along the way?
As with most startups, our biggest challenge initially was our limited financial resources to build Brightpick and compete against much larger rivals. Today, after having done multiple customer installations and seen the market's positive reaction to our technology, we know we can beat companies 10-100x our size. Thankfully, our drive, vision and passion enabled us to persevere and achieve a lot more with a lot less.
And, of course, landing a first customer can often be challenging for start-ups. We were no different but are long past that point. In Europe, we have multiple active installations of our Brightpick solution, and Rohlik Group, one of the largest e-grocers in Europe, is rolling out Brightpick robots across a half-dozen warehouses right now. In the US, we did our first installation with Netrush, a leading logistics provider (3PL), earlier this year. We are also currently speaking to and evaluating projects with many of the largest retailers on both continents.
Could you share some of the key milestones that Brightpick has reached under your leadership?
Our Brightpick Autopicker robot was definitely a major achievement and one that is a game-changer for the industry. We really upped the status quo with that robot. It got a lot of people's attention and we have a lot of demand for it in the US and Europe.
Another milestone was when we hired our 300th employee last year. That was exciting. I remember sitting there thinking, "Wow, I am now the CEO of a 300-person company!" One thing that is really heart-warming for me is that our 300th employee is as passionate about our company as our first one. This kind of passion for innovation is key to our company culture and gives me confidence we will continue our strong growth.
An additional significant milestone was winning the confidence of Rohlik Group and them rolling out our Brightpick solution across their European-wide network of fulfillment centers.
And, of course, we can't do any of this without our supportive investors. Back in January 2023, we announced a $40 million Series B, which brought our total capital raised to $53 million. Each capital raise is an important part of our growth and I consider them major milestones as well. They also contribute smart ideas and guidance on a regular basis.
What is your vision for the future of Brightpick? Where do you see the company heading in the next five years?
In the near future, Brightpick will focus on scaling. We recently brought to market Brightpick Autopicker, an innovative new robot. Now we are in the process of scaling our manufacturing and deployment capabilities to meet the huge demand we are seeing for it.
We will of course continue to improve and iterate on Brightpick Autopicker. It is already the most efficient solution on the market, but there are still some tweaks we can make to optimize performance even more. This is especially true on the software and AI side. (Current customers will benefit from future improvements because the installed software is easy to update.)
We also see a huge opportunity in the grocery market, both in traditional fulfillment centers and back-of-store or micro fulfillment centers. The average size of an online order for groceries is 10-15x larger than other ecommerce verticals. This makes e-grocery a huge addressable market for us, given the number of picks it requires in warehouses. And Brightpick will be a big enabler of further e-grocery growth thanks to the cost savings we deliver to our customers.
And, because Brightpick Autopicker can pick a wide range of items in addition to groceries, including packaged goods, cosmetics, electronics, pharmaceuticals, medical devices, polybagged apparel and more, there are endless opportunities.
As a leader, what are some of the core values you instil in Brightpick's culture?
We don't have a formal set of core values for Brightpick, but a couple things come to mind. First, reliability. We never forget that our robots' reliability is of utmost importance to our customers. As a team, we must always deliver that. Second, keep it simple. We always look for the simplest solution, both for our customers and internally. It's very easy to overcomplicate or over-engineer technology just because it's fun or cool, but if you really think about it our goal is to make our customers' lives as easy and simple as possible. And lastly, we must always remember to display integrity in everything we do and show the utmost respect to both our colleagues and customers.
How do you ensure that Brightpick remains innovative and adapts to the rapidly changing market?
We are customer-obsessed. We really listen to companies in the industries we serve to better understand their needs. For example, we had a close collaboration with several e-grocers and that led us to develop Brightpick Dispatcher. Today it is the only mobile robot solution on the market designed specifically to automate order consolidation and dispatch across multiple different picking zones (ambient, chilled, etc.), which is a huge challenge for e-grocers (and also pharmaceutical or medical distributors). There are plenty of other examples of smaller features in our robots and software that were a result of discussions with customers.
Within the company, I encourage fast prototyping when doing new product development. It's much easier to iterate and understand what is missing once you have something to work with (even if it's pre-alpha) than it is to sit in a meeting room and endlessly discuss how to create the perfect product on a whiteboard.
In my view this is one of the main reasons why startups out-innovate large established corporations and I want to make sure we retain this culture of innovation even as we scale and become a large corporation ourselves.
We also need to keep hiring talented people who are comfortable stating their opinions. We have an extremely hands-on culture at Brightpick where every employee is expected and encouraged to speak up and contribute, even if it falls outside their job description. That's one of the things that makes it so exciting to work at Brightpick.
Any last thoughts?
It has been such an exciting time for Brightpick and I am grateful for everyone on the team who helped get us to where we are today. I believe we can be very proud of Brightpick Autopicker and the rest of our Brightpick solution. The future holds so many excellent opportunities for us that are ripe for picking.

To hear more about Jan's perspective on the industry, follow him on LinkedIn. For more news about Brightpick, check out our latest news releases and media coverage.