12 great reasons for grocers to use Brightpick for online order fulfillment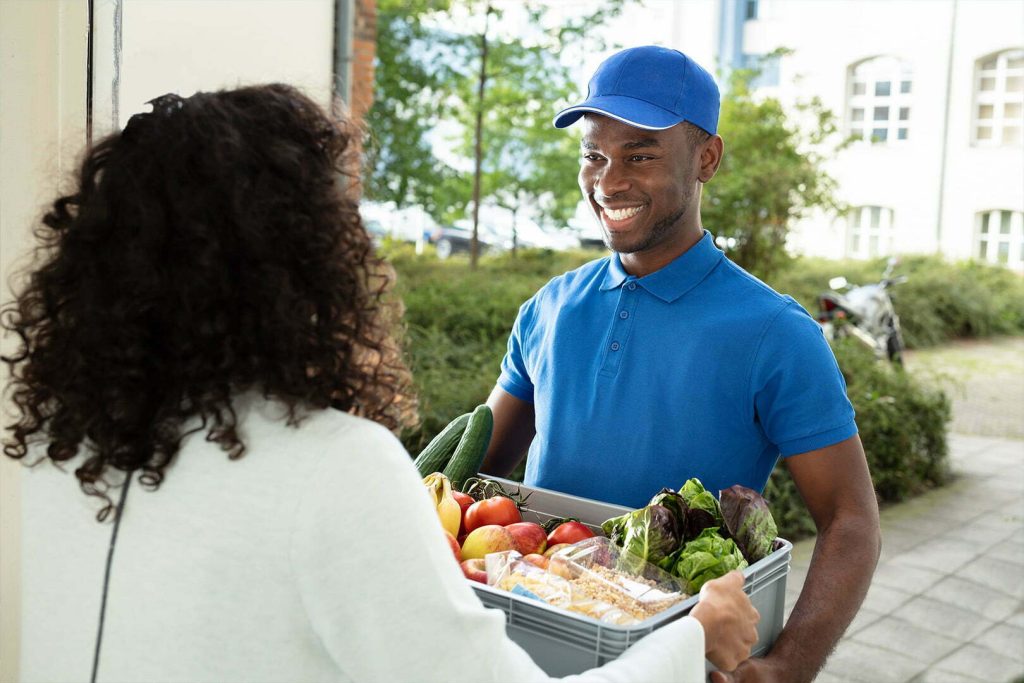 Improves online profitability and helps you grow
Brightpick enables grocers to improve their profitability and offer customers better prices by cutting order fulfillment costs by up to 50%. It achieves this by reducing picking labor by more than 95% and enabling grocers to ship more orders from the same footprint.
Eliminates human picking errors
Brightpick Autopicker robots have been designed specifically for picking groceries. They can robotically pick the vast majority of groceries with 99.9% accuracy, which eliminates human picking errors. The robots' advanced AI algorithms have been trained on more than 250 million picks to date and use machine learning to improve with each pick.
Delivers higher throughput by picking directly in the warehouse aisles
Brightpick Autopicker is the only mobile robot in the world that robotically picks and consolidates orders directly in the warehouse aisles. The robot is like a human with a cart, autonomously picking and consolidating orders as it moves through the warehouse aisles. This means they do not need to travel back and forth to centralized picking stations, which increases throughput and shortens picking times.
Automates your stock replenishment
Brightpick Autopickers autonomously replenish your inventory by taking empty totes out of storage and putting away newly refilled totes back into storage. In addition, the robots perform dynamic slotting during off-peak hours and at night. This involves the robots optimizing tote positions inside the storage area to maximize overall volumes and speed, for example by slotting totes with faster-moving merchandise closer to picking stations.
Increases storage density in your warehouse
By implementing Brightpick, grocers can double their storage capacity within the same footprint. Brightpick Autopickers can reach as high as 3 meters (10 feet) and require much narrower aisles than humans. Storage density can be enhanced even further with the use of multi-level structures.
Easily scales as your business grows
With Brightpick you can easily expand your storage capacity and volumes on demand. Brightpick robots use standard shelving and no fixed infrastructure, which also enables fast deployment and easy integration with any facility, including existing warehouses and mezzanines.
Autonomously dispatches orders
E-grocery fulfillment centers consist of multiple different picking zones to account for different types of products (ambient, fresh, chilled, frozen). As a result, items picked from each zone need to be consolidated into complete orders before they can be dispatched to customers. Brightpick Dispatcher robots consolidate items across these various picking zones into complete orders and dispatch them for delivery, click and collect, or in-store pickup.
Increases throughput during peak hours
Brightpick Dispatchers also enable companies to pre-pick customer orders in advance by storing them in a temporary staging area until they need to be dispatched. This enables grocery warehouses to smooth out picking volumes throughout the day and increase throughput during peak hours.
Works in ambient and chilled environments
Brightpick robots can work in multiple temperature zones, including ambient and chilled. This enables you to simplify your operations by automating the entire fulfillment process with a single solution.
Ideal for micro fulfillment centers (MFCs)
The solution is ideal for back-of-store or micro fulfillment centers (MFCs). The Brightpick solution is easy to deploy even in tight spaces and is suitable for both low- and high-throughput applications; simply add or remove robots based on volumes. Brightpick robots can deliver orders directly to the customer at the pick-up point for click and collect and in-store pickup.
Replenishes stores and other MFCs
Brightpick can be used for store replenishment by picking and dispatching inventory from your distribution center. This is especially useful for stores that may need less than full cases of items and helps increase the number of SKUs the stores can support.
The entire robot fleet is orchestrated and optimized
The entire Brightpick robot fleet, be it 10 or 100s of robots, and fulfillment process is orchestrated and optimized by Brightpick Intuition software; including storage, picking, order consolidation, dispatch and replenishment. All you have to do is sit back with a cup of coffee and let Brightpick do the work!

About Brightpick
Brightpick offers AI-powered robots for warehouses to easily automate every stage of ecommerce and e-grocery order fulfillment. The innovative robots enable warehouses of any size to fully automate order picking, consolidation and dispatch, as well as stock replenishment. The Brightpick solution takes weeks to deploy and enables companies to reduce their picking labor by 95% and cut picking costs by half. Headquartered near Cincinnati, OH, Brightpick is part of Photoneo Brightpick Group, which has more than 300 employees and 5000 technology installations across the US, Europe and Asia. For more information, contact us here.
Get started with Brightpick