Brightpick Shows Strong Momentum as Demand Soars for its New Brightpick Autopicker Robots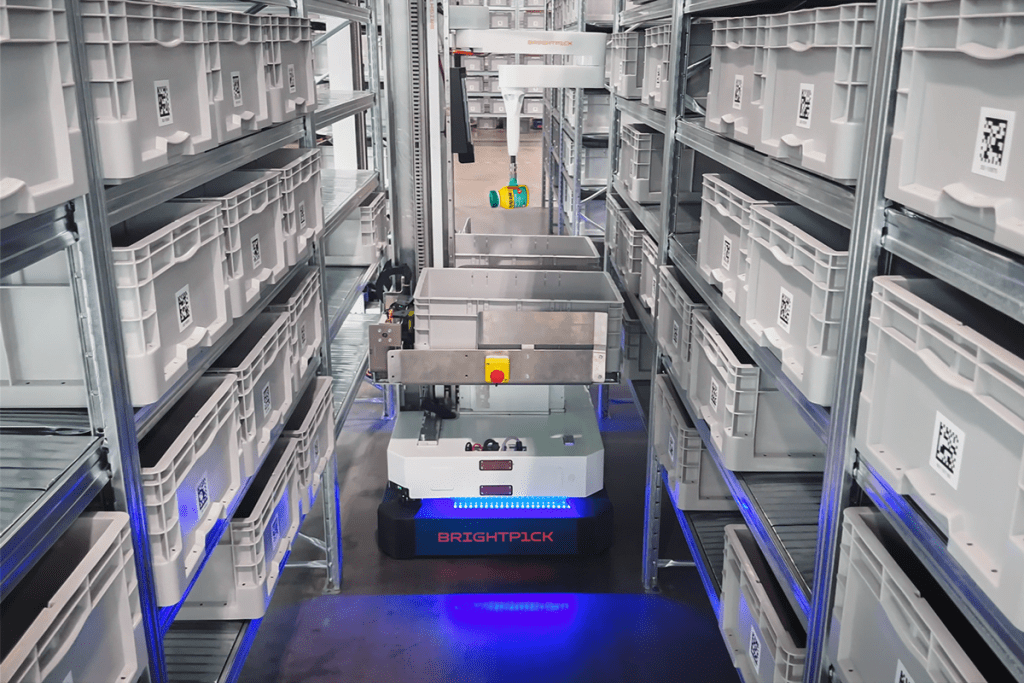 The Company Also Announced Its First Brightpick Autopicker Installation in a Pharmaceutical Distribution Center
Erlanger, KY, USA — September 20, 2023 — Brightpick, a leading provider of warehouse automation solutions for order fulfillment, today announced strong global sales growth for its Brightpick Autopicker robots that were first unveiled in February 2023. The privately-held Brightpick, with more than 200 employees worldwide, has ramped up operations to fill the demand and is now manufacturing hundreds of the robots annually for installations across the world. All manufacturing is done at the company's own manufacturing plant in Europe to ensure the highest quality robots. The company also announced its first Brightpick Autopicker installation for the pharmaceutical industry.
Brightpick Autopicker is an autonomous mobile robot that moves around the warehouse, retrieves product storage totes from shelving, and robotically picks items from those totes to consolidate orders directly in the aisles. In contrast to other types of automated fulfillment systems, Brightpick Autopicker's unique in-aisle robotic picking capabilities eliminate the need to travel back and forth to centralized picking stations. In addition to in-aisle robotic picking, Brightpick Autopickers can be used for Goods-to-Person picking, stock replenishment, pallet picking and dynamic slotting.
"Demand for Brightpick Autopicker has far exceeded our expectations," said Jan Zizka, CEO and co-founder of Brightpick. "Ecommerce and e-grocery companies seem to quickly understand the operational enhancements that a fleet of Brightpick Autopicker robots can provide. Our strongest traction is in grocery and pharmaceuticals probably because our robots excel at picking those items and can pick from ambient and chilled zones."
Brightpick Autopickers to be Used to Replenish Pharmacies
In Brightpick's first installation for the pharmaceutical industry, a European pharmaceutical distribution center will use Brightpick Autopicker robots to pick orders to regularly replenish its chain of pharmacies. The company is one of the largest pharmaceutical companies in Europe, with thousands of pharmacies across multiple countries. The robots are scheduled to go live in the distribution center in October.
If required, Brightpick Autopickers can easily determine and pick pharmaceutical items that "expire the soonest" or quickly stop picking from any batch (for example if it is found to be defective).
Pharmaceuticals are only one application of Brightpick Autopicker. The robots can also reliably pick ambient and chilled groceries, packaged goods, cosmetics, electronics, medical devices, polybagged apparel and more.
Rohlik, a Major European E-Grocer, Goes Live with Munich Deployment
In June 2023, Brightpick announced the successful completion of a nine-month pilot of its robotic solution in the Prague fulfillment center of Rohlik Group. The company is one of the largest e-grocers in Europe and has more than 1.5 million e-grocery customers and 12 million orders per year. Rohlik has since deployed the Brightpick solution in its Munich fulfillment center and plans to continue to roll out Brightpick robots in Frankfurt, Vienna, Prague and other fulfillment centers in the remainder of 2023 and into 2024. The solution for Rohlik includes Brightpick Autopicker and Brightpick Dispatcher robots and enables Rohlik to fully automate picking, consolidation and dispatch of orders.
Several other pilots are planned in both the United States and Europe with major grocery companies, third party logistics companies (3PLs) and medical distributors. The ability to install Brightpick robots quickly and with minimal disruption to existing warehouses has been well-received in an economic climate where companies are not investing in building new warehouses, but instead trying to maximize performance of existing facilities.
Brightpick Technology Hub Continually Enhancing Brightpick Solution
Meanwhile, back at the Brightpick Technology Hub, the robot development team is working long hours to continually enhance all Brightpick robots and Brightpick Intuition software, the "brains" of the robots. The team has been focused on adding incremental enhancements to the fleet management software which already uses complex "time-space planning" to optimize the speed and throughput of the entire fleet.
"The commercial success of Brightpick Autopicker has been extremely motivating for our technology team that worked tirelessly to get it just right for our customers," said Tomas Kovacovsky, CTO and co-founder of Brightpick. "We are more dedicated than ever to keep enhancing the robots and software based on customer feedback and our own creative ideas."
About Brightpick
Brightpick offers AI-powered robots for warehouses to easily automate every stage of ecommerce and e-grocery order fulfillment. The innovative robots enable warehouses of any size to fully automate order picking, consolidation, dispatch and stock replenishment. The Brightpick solution takes weeks to deploy and enables companies to reduce their picking labor by 95% and cut picking costs by half. Headquartered near Cincinnati, OH, Brightpick is part of Photoneo Brightpick Group, which has more than 300 employees and 5000 technology installations across the US, Europe and Asia. For more information, visit www.brightpick.ai
# # #
For media inquiries, please contact:

Gaby Adam
By the Sea Communications
Email: gaby@bytheseacommunications.com
Mobile: +1 206-931-5942