Brightpick to Demonstrate its New Brightpick Autopicker at LogiMAT Booth EO31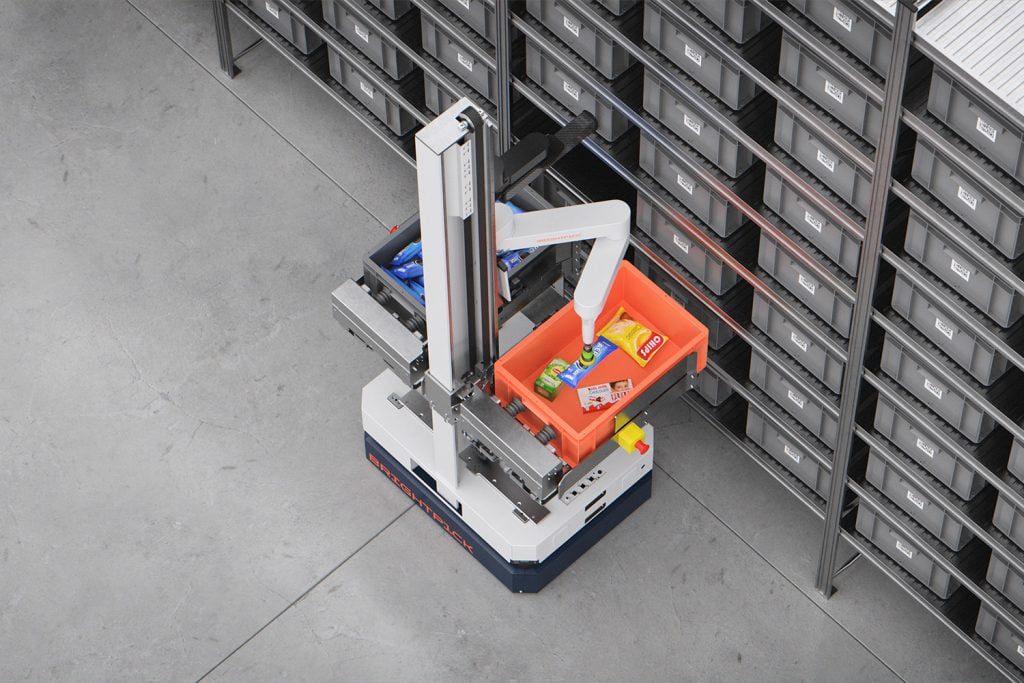 Brightpick Autopickers are Autonomous Mobile Picking Robots for Order Fulfillment that Pick and Consolidate Orders as They Move Through the Warehouse Aisles
Erlanger, KY, USA — April 12, 2023 — Brightpick, a leading provider of warehouse automation solutions for order fulfillment, will be demonstrating its recently announced Brightpick Autopicker at LogiMAT booth EO31 (April 25-27, 2023, in Stuttgart, Germany). Designed for ecommerce and grocery order fulfillment, Brightpick Autopickers move around the warehouse, retrieve product storage totes (bins) from shelving, and robotically pick items from those totes to consolidate orders directly in the aisles.
The fully autonomous, end-to-end robotic solution takes less than a month to deploy, enables warehouses to reduce their picking labor by 95%, and cuts costs for order fulfillment by half. It can reliably pick groceries, cosmetics, personal care products, electronics, pharmaceuticals, apparel and more with 99.9% accuracy.
"The response to Brightpick Autopicker has been fabulous so far and we look forward to showing off its capabilities to the European market," said Jan Zizka, CEO and co-founder of Brightpick, who will be at LogiMAT with the Brightpick team. "Never before has there been a commercially-available robot capable of autonomously moving around the warehouse and picking items as it goes."
A typical Brightpick Autopicker fleet in a warehouse consists of 15 to 100 robots. The entire fleet and fulfillment process is orchestrated and optimized by Brightpick Intuition software, which allows users to remotely monitor and control all aspects of your fulfillment operations, tracking every robot, order, tote and item code in real time. Brightpick Autopicker is fully patented and powered by proprietary machine vision and AI algorithms. Its advanced AI algorithms have been trained on more than 250 million picks to date and use machine learning to improve with each pick.
Brightpick Autopicker also comes with Goods-to-Person capabilities for items that require human dexterity and can autonomously find the nearest human to complete a pick if needed.
The robots work with standard warehouse shelving and totes, enabling fast deployment and easy integration with any warehouse environment, including existing operations and mezzanines.
The solution has 99.5% uptime, no single point of failure and is easy to maintain. Brightpick Autopickers can also be used to replenish storage and consolidate orders across different picking zones. Additional Brightpick Autopickers can be easily added to increase throughput for seasonal peaks.
Several companies in the US and Europe plan to roll out Brightpick Autopicker in their warehouses in 2023. The Brightpick solution is available in two purchase models: robots-as-a-service (RaaS) and capex (outright purchase). For sales inquiries, please contact us via our website at www.brightpick.ai.
Brightpick CEO and co-founder, Jan Zizka, Chief Revenue Officer and co-founder, Branislav Pulis, and director of product, Martin Mrva, will all be at LogiMAT along with other Brightpick team members.
About Brightpick
Brightpick offers the world's most efficient warehouse automation solutions for ecommerce and grocery order fulfillment. The company's end-to-end robotic solution autonomously picks, consolidates and dispatches orders in large, small and micro fulfillment centers. The Brightpick solution takes less than a month to deploy, enables warehouses to reduce their picking labor by 95%, and cuts costs for order fulfillment by half. Brightpick, headquartered near Cincinnati, OH, is part of Photoneo Brightpick Group, which has more than 300 employees and 5000 technology installations across the US, Europe and Asia. Its customers include leading companies such as General Motors, Volkswagen and KUKA. For more information, visit www.brightpick.ai.
# # #
For media inquiries, contact:
Gaby Adam
By the Sea Communications
Email: gaby@bytheseacommunications.com
Mobile: +1 206-931-5942