Partner News: Rohlik Group Continues Innovating in Automation of Fulfilment Centres by Piloting Fully Automated, Flexible Fulfilment Solution from Brightpick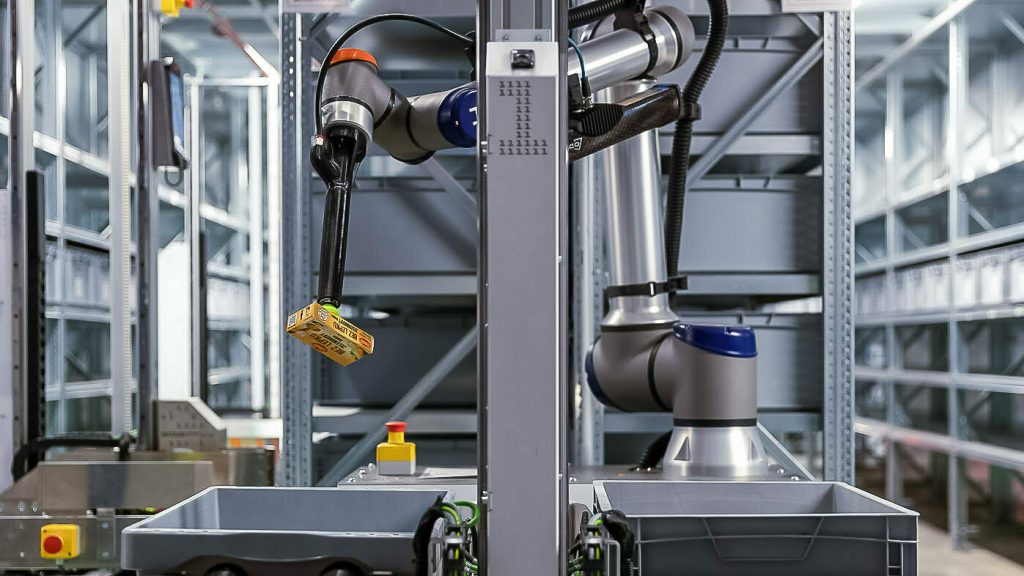 Pilot project with Brightpick to leverage automation and robotics along with Fulfilment Centre goods flow to increase overall efficiency and delivering increased flexibility in implementation.
Prague, Czech Republic — March 31, 2022 — Rohlik Group ("Rohlik") will pilot the Brightpick fully automated fulfilment solution to understand their performance and adaptability to the fastest operational model on the market. This innovative pilot project will see the implementation of an end-to-end fulfilment system for grocery orders that combines best in class 3D vision with advanced AI algorithms, state-of the-art mobile robotics, and intuitive fulfilment centre optimization software.
The project is expected to be launched in the summer of 2022 in Prague, following the 2021 announcement that Munich, Hamburg, Vienna and Prague would all be sites for initial investments into fulfilment centre automation.
"As a leading European online grocer, we are continuing to set the vision with our game changer approach to the e-grocery industry. Automation is a key driver for growth and increased efficiency of supply chains, ensuring even faster and more accurate order fulfilment, with the customer being the ultimate beneficiary of our innovative approaches to better customer service," explains Tomáš Čupr, Founder and CEO.
Fully Automated Fulfilment and Dispatch
Unlike other goods to robots fulfilment solutions, Brightpick's robot Runners are seamlessly connected with automated robotic picking stations through innovative software that optimises the picking process while also orchestrating the Runners, robotic pickers, and order consolidation. Brightpick Runners are used to autonomously deliver totes of products to the advanced 3D vision directed robotic arms with AI object recognition for picking and then transfer completed orders through the rest of Rohlik's delivery staging process. Runners are able to complete their tasks in 15 seconds or less, according to Brightpick.
"The potential of this next-gen warehouse automation technology is immense as it is highly configurable, scalable, adapts as business needs change, and has no single point of failure. It helps optimise processes, save space, and increase efficiency compared to manual labour. Brightpick's end-to-end, fully automated fulfilment solution can be deployed in days and is easily scalable from 500 to 10.000 picks per hour and can also consolidate orders from multiple zones without a conveyor. All in all, up to 100 000 orders per day can be completed," explains Jan Žižka, Brightpick's CEO.
This solution will be incorporated into the existing processes of our supply chain in the testing phase in order to improve our end-to-end fulfilment process. "The unique thing specific to this case study project is the segmentation, that allows for multiple orders to be prepared simultaneously as well as our being able to prioritise goods that are top sellers," adds Aleš Malucha, Rohlik Group Chief Automation Officer, continuing: "We want to test two use cases for the pilot – in fulfilment with 900 picks/hour and in Dispatch with 2000 tote movements/hour. If the objectives of the pilot project are met, we will consider introducing this solution to our other fulfilment centres."
About Brightpick
Brightpick offers the world's most efficient automated order fulfillment solution for ecommerce and grocery warehouses. The company's end-to-end robotic solution autonomously picks, consolidates and dispatches orders in customer fulfillment centers (CFCs) and micro fulfillment centers (MFCs). The Brightpick solution takes less than a month to deploy, enables warehouses to reduce their picking labor by 90% and cuts picking costs by half. Brightpick is part of Photoneo Brightpick Group, headquartered near Cincinnati, OH, which has more than 300 employees and whose technology is used in over 5000 installations across the US, Europe and Asia. For more information, visit www.brightpick.ai.
About Rohlik
Founded in 2014 in the Czech Republic, Rohlik Group is one of Europe's leading online grocery delivery services. Already active in the Czech Republic (Rohlik.cz), Hungary (Kifli.hu), Austria (Gurkerl.at) and Germany (Knuspr.de) it is launching in Romania, Italy and Spain in 2022 under the Sezamo brand for these three countries. Deploying world-leading technology & logistics to deliver a huge range of quality products (17 000 SKUs+), it can offer a 15-minute delivery window with delivery as soon as within 90 minutes of placing an order in some countries. As a tech company, it is data-driven in everything it does. By owning its end-to-end operations, including having all technology in-house, customers are provided with a superior shopping experience including delivery of the freshest food from local farmers and artisans, as well as a broad supermarket selection and its own private label brands. The company is dynamic and growing rapidly, attaining unicorn status.
For more information visit www.rohlik.group.
For career enquiries visit career.rohlik.group
For press enquiries, contact Eliška Čeřovská at eliska.cerovska@rohlik.cz