Europe's economic downturn: how robotics can help e-grocers build resilience in a slowing economy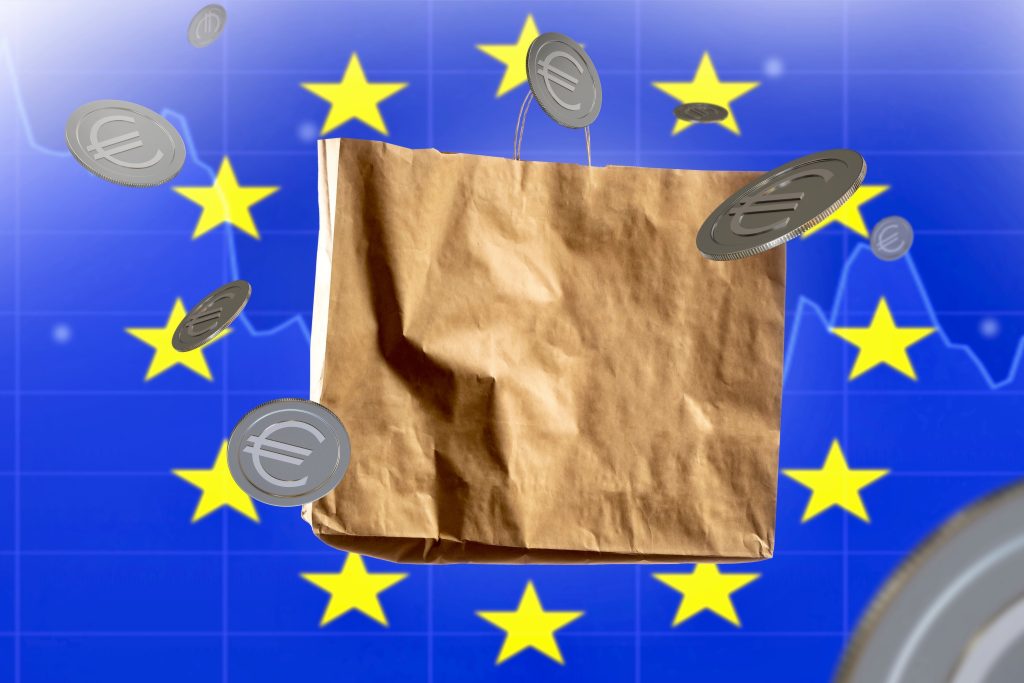 The dual shocks of high inflation and last year's energy crisis have tipped Europe into a recession. Official data released in June 2023 revealed that output in the Eurozone declined by 0.1% in the first quarter of this year, following a 0.1% contraction at the end of 2022. The downward correction follows data from Germany, the Europe's largest economy, showing that it also slipped into recession after its economy shrank for a second consecutive quarter. This is despite unemployment being close to all-time lows.
For e-grocers, the recession poses several challenges:
Downtrading (the trade-down effect): consumers shift from higher-priced products to lower-priced alternatives, leading to lower revenues and margins.
Higher last mile costs: high energy prices result in higher last mile costs and reduced margins for e-grocers. In addition, some consumers may become less inclined to pay for delivery.
Cost inflation: the tight labor market leads to high wage inflation, which squeezes margins for grocers.
In this blog, we will explore how warehouse robotics can help European e-grocers overcome the challenges of lower consumer spending, higher last mile costs and labor shortages during these uncertain times.
Challenge 1: Lower consumer spending and downtrading
With high economic uncertainty and inflation, consumers are reducing their spending and opting for lower-priced alternatives. 56% of consumers have shifted their spending in favor of lower-cost brands in 2023. This trend can be especially impactful in e-grocery, where prices are easily comparable across websites and competition is just one click away.
Solution: Increase customer retention
Increasing customer satisfaction can improve retention and make consumers less price-sensitive. One way to do this is to deliver orders faster and more accurately. Robotic warehouse solutions for order fulfillment can increase picking speeds and ensure on-time dispatch of orders. Robots also reduce picking errors and add consistency to the operation. By providing a seamless and reliable shopping experience, e-grocers can increase customer satisfaction, foster loyalty and retain more customers during times of economic stress.
Challenge 2: Increasing last mile costs
Last mile delivery costs e-grocers 8% of the order value on average, which can be a huge burden considering the low profit margins in the grocery industry. Last year's energy crisis further increased these costs due to higher fuel prices. As a result, 86% of grocery retailers are dissatisfied with their online profitability. While many e-grocers have started charging customers for delivery, passing on these higher costs in full can result in less competitive pricing and a loss of market share. As a result, e-grocers need to look for efficiencies elsewhere in their supply chain.
Solution: Offset high last mile costs with lower picking costs
To mitigate the excess costs from last mile delivery, e-grocers should focus on minimizing picking and warehousing costs. 79% of grocers cite "improving picking efficiency" as their #1 profitability lever. Using robotics for order picking, e-grocers can cut costs for order picking by up to 50% by saving on labor costs, increasing the number of shifts per day and reducing picking errors.
Challenge 3: Labor shortages and wage inflation
Finding and retaining skilled workers is one of the biggest challenges faced by European businesses today. A tight labor market also means workers have more power to demand big wage increases to compensate for inflation. Therefore grocers are not only struggling to fill vacancies, especially for physically-demanding warehouse jobs, but they are also facing margin contraction from rising wages.
Solution: Reduce labor needs
Robotics alleviates the pressure of labor shortages by reducing reliance on manual labor. Robots can handle repetitive and time-consuming tasks such as picking and allow grocers to re-allocate their workforce for more productive and higher-value tasks. By leveraging automation, grocers can overcome labor shortages, reduce labor costs and increase profitability.
Conclusion
Robotic solutions are an effective way for e-grocers to overcome the challenges of lower consumer spending, higher last mile costs and labor shortages. By implementing warehouse automation, e-grocers can optimize their operations and effectively navigate the ongoing economic downturn to position themselves for long-term success.
In response to these challenges, European e-grocers are seeking solutions that can drive efficiency while maintaining high adaptability. One such solution that is gaining prominence is Brightpick, an end-to-end robotic solution for grocery order fulfillment. Brightpick offers e-grocers the ability to improve picking speed and accuracy, cut order fulfillment costs and reduce labor needs. By leveraging proprietary software, AI and robotics, Brightpick enables e-grocers to optimize their operations and navigate the economic downturn more effectively.
Rohlik group, one of the largest e-grocers in Europe, is rolling out the Brightpick solution across its network of fulfillment centers in Germany, Austria and Czech Republic. Read more here.
Get started with Brightpick