Automation and the Future of Fulfillment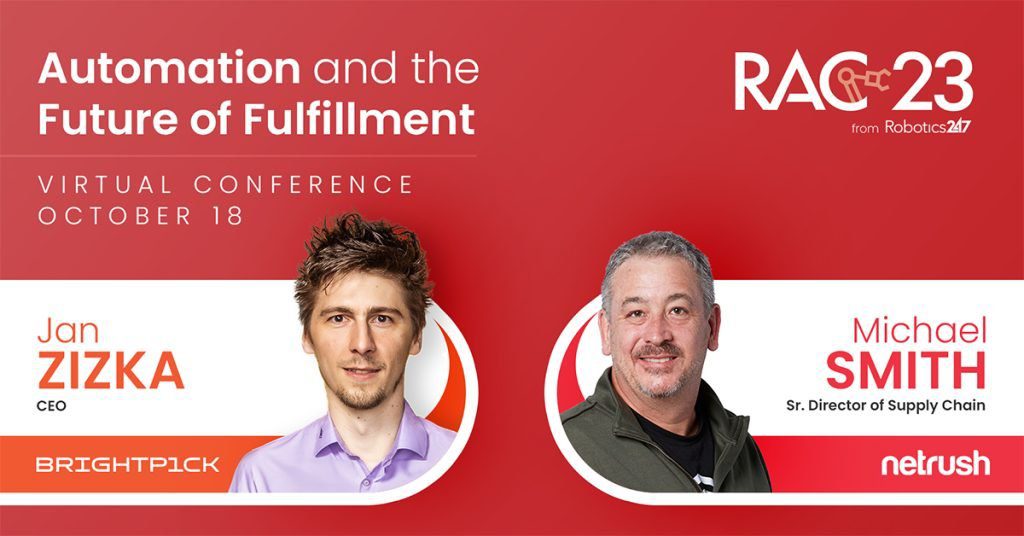 Brightpick will be presenting at Robotics Applications Conference, a virtual event hosted by Robotics247. Jan Zizka, CEO at Brightpick, and Michael Smith, Sr. Director of Supply Chain at US-based 3PL Netrush, will talk about the latest generation of order fulfillment technologies as well as the pros and cons of using robots for order fulfillment.
Time: October 18, 2023
Location: Virtual
Speakers: Jan Zizka (CEO at Brightpick) and Michael Smith (Sr. Director of Supply Chain at Netrush)
Sign-up here for free
About Jan Zizka
Jan Zizka is CEO and co-founder of Brightpick. Before co-founding Brightpick, Jan co-founded and led Photoneo, which scaled to become one of the leading 3D machine vision companies in the world with customers such as General Motors, Volkswagen and KUKA. Prior to that, he was a research engineer at Micro-Epsilon, a leading sensor manufacturer. Jan has filed over 20 patents ranging from 3D sensing methods to mobile robotics. He earned a PhD in Computer Vision from Comenius University, during which he also did research on computational cameras and optics at the Massachusetts Institute of Technology (MIT).
About Brightpick
Brightpick offers AI-powered robots for warehouses to easily automate every stage of ecommerce and e-grocery order fulfillment. The innovative robots enable warehouses of any size to fully automate order picking, consolidation, dispatch and stock replenishment. The Brightpick solution takes weeks to deploy and enables companies to reduce their picking labor by 95% and cut picking costs by half. Headquartered near Cincinnati, OH, Brightpick is part of Photoneo Brightpick Group, which has more than 300 employees and 5000 technology installations across the US, Europe and Asia. For more information, contact us here.